21 Reasons to Use This Food
Submitted by

Dr. Asa Andrew

on Tue, 03/29/2016 - 13:07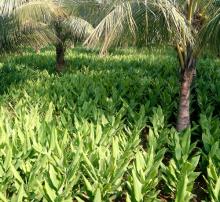 This anti-inflammatory food has been in the press lately. It has many researched health benefits that have been noted through the ages. This powerful spice can be added to your foods, or taken in supplement form. There are many reasons to add it to our daily eating routine. Here are 21 Reasons.
1. Tumeric is a natural antiseptic and antibacterial agent, useful in disinfecting cuts and burns.
2. When combined with cauliflower, it has shown to prevent prostate cancer and stop the growth of existing prostate cancer.
3. Prevented breast cancer from spreading to the lungs in mice.
4. May prevent melanoma and cause existing melanoma cells to commit suicide.
5. Reduces the risk of childhood leukemia.
6. Is a natural liver detoxifier.
7. May prevent and slow the progression of Alzheimer's disease by removing amyloid plaque buildup in the brain.
8. May prevent metastases from occurring in many different forms of cancer.
9. It is a potent natural anti-inflammatory that works as well as many anti-inflammatory drugs but without the side effects.
10. Has shown promise in slowing the progression of multiple sclerosis in mice.
11. Is a natural painkiller and cox-2 inhibitor.
12. May aid in fat metabolism and help in weight management.
13. Has long been used in Chinese medicine as a treatment for depression.
14. Because of its anti-inflammatory properties, it is a natural treatment for arthritis and rheumatoid arthritis.
15. Boosts the effects of chemo drug paclitaxel and reduces its side effects.
16. Promising studies are underway on the effects of turmeric on pancreatic cancer.
17. Studies are ongoing in the positive effects of turmeric on multiple myeloma.
18. Has been shown to stop the growth of new blood vessels in tumors.
19. Speeds up wound healing and assists in remodeling of damaged skin.
20. May help in the treatment of psoriasis and other inflammatory skin conditions.
21.Has been shown to improve memory as all noted in the world's healthiest foods.
Tumeric is one of the top medicinal foods receiving press in most journals. Tumeric is also oe of the top anti-inflammatory foods used as a spice that we have today.
Please call me if you ever need anything at 888-599-9355
Or
You can always email me HERE
Your Best Days Are Still Ahead!
Bio
Known as America's Health Coach, Dr. Asa Andrew is a national best-selling author and host of the #1 Health Talk Radio Show in North America. In addition to his hit television series, Dr. Asa is a regular contributor to NBC, ABC, CBS, CNN, and FOX and regarded as a healthcare leader in the field of lifestyle medicine.