The Breathe Better Herb
Submitted by

Dr. Asa Andrew

on Thu, 06/02/2016 - 05:59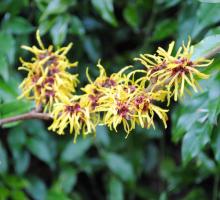 Health benefits from witch hazel come from its application, both internally and externally. Practitioners use different parts of the witch hazel shrub, including bark, branches, and leaves, that are anti-inflammatory to the skin, bruises, and wounds. Though witch hazel usually is a topical application, health benefits come from its use as a tea or mouthwash. The predominant benefit of witch hazel is its astringent and anti-inflammatory properties. It is used in cosmetic lotions and creams to lighten the skin, remove excess oil and dirt, and tighten facial skin. It is helpful to treat acne, psoriasis, and eczema. In addition, it is used extensively in after-shave lotions to heal shaving cuts. It is a natural remedy for insect bites, sunburn, puffy eyes, and itchy skin.
The tannins, flavonoids, and resin present in witch hazel benefit painful varicose veins and hemorrhoids. The herb improves the constriction of blood vessels and its ability to reduce them to normal size. Topical application of witch hazel based creams is also advised for postnatal perineum tearing. A throat gargle of witch hazel and clove helps relieve sore throat pain and laryngitis. Witch Hazel tea treats dysentery, diarrhea, and abdominal cramps. The active ingredient catechol is responsible for this health benefit. Mucus discharge and colitis may also improve from the internal use of witch hazel. Available as medicated pads, tinctures, alcohol extracts, creams, and teas, witch hazel is great for reducing swelling and traumatic bruises.

Though there are no reported significant drug interactions of witch hazel, there may be certain side effects of using witch hazel. The tannins present in this herb may cause nausea, constipation, and liver problems. Be sure to consult your physician before using witch hazel. As noted in the world's healthiest foods.
Witch hazel has been used for years toward empowering your health be a unique plant-based form of medicine. Natural healers have long touted the benefits. What is interesting is many hospitals are looking into the benefits of homeopathic remedies and plant-based health derivatives in certain studies. We will see more of this type of medicine in the near future.
Please call me if you ever need anything at 888-599-9355
Or
You can always email me HERE
Your Best Days Are Still Ahead!
Bio
Known as America's Health Coach, Dr. Asa Andrew is a national best-selling author and host of the #1 Health Talk Radio Show in North America. In addition to his hit television series, Dr. Asa is a regular contributor to NBC, ABC, CBS, CNN, and FOX and regarded as a healthcare leader in the field of lifestyle medicine.