The Food To Help Beat Heart Disease
Submitted by

Dr. Asa Andrew

on Tue, 09/06/2016 - 04:11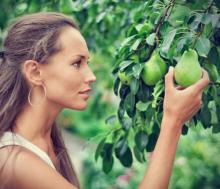 While this food is not an unusual source of conventional antioxidant or anti-inflammatory nutrients (for example, vitamin E or omega-3 fatty acids), the phytonutrient category is where this fruit excels. For example, in the Baltimore Longitudinal Study of Aging (1,638 participants, average age range 62-69 years), the combination of these foods ranked as the second highest source of flavonols among all fruits and vegetables - partly due to the epicatechin richness. Average flavonol intake in the study was about 14 milligrams per day, and one of these can provide about half of this amount all by itself. They are very neutral with any type of inflammation or allergic response to the body. Some interesting facts that shocked the scientific community about this superfood is that these foods have a multitude of health benefits.
As a very good source of dietary fiber, pears might logically be expected to help protect us from development of type 2 diabetes (or DM2, which stands for "diabetes mellitus type 2) as well heart disease. Adequate intake of dietary fiber is a long-established factor in reducing our risk of both diseases, and in the case of pears, this benefit may be even more pronounced due to the helpful combination of both soluble and insoluble fiber in this fruit. In addition to their fiber content, however, pears have other ways of helping to protect us against these diseases. In the case of DM2, scientists now know that pear flavonols (including isorhamnetin, quercetin, and kaempferol), flavan-3-ols (especially epicatechin), and the anthocyanins (found in red-skinned varieties including Red Anjou, Red Bartlett, Comice, Seckel, and Starkrimson) all help improve insulin sensitivity. (More and more research attention is being given to mechanisms of action in this area, including regulation of the enzyme NADPH oxidase.) In the case of heart disease, recent research has shown that pear fibers are able to bind together with bile acids in the intestine, lowering the pool of bile acids and decreasing the synthesis of cholesterol. In addition, the phytonutrients in pear may play a special role in these fiber-bile acid interactions. The ability of pear fibers (and other fruit fibers) to bind bile acids has actually been compared to the cholesterol-lowering drug cholestyramine, with pears showing about 5% of the ability of the drug to accomplish this result. (Among commonly eaten fruits, only bananas and pineapples showed more bile acid-binding ability at 9% and 6%, respectively.)
The health benefits of pear fiber also extend into the area of cancer risk. Fiber from pear can bind together not only with bile acids as a whole, but also with a special group of bile acids called secondary bile acids. Excessive amounts of secondary bile acids in the intestine can increase our risk of colorectal cancer (as well as other intestinal problems). By binding together with secondary bile acids, pear fibers can help decrease their concentration in the intestine and lower our risk of cancer development. In the case of stomach cancer (gastric cancer), intake of pears has also been shown to lower cancer risk. Here the key focus has not been on pear fiber, however, but on pear phytonutrients, especially cinnamic acids (including coumaric acid, ferulic acid, and 5-caffeoylquinic acid). In a recent study from Mexico City, it took approximately 2 total fruit servings per day and 4 daily vegetable servings to accomplish a decrease in gastric cancer risk. Pears and mangos were among the key foods determined to provide cinnamic acids in the study.
Esophageal cancer (specifically, esophageal squamous cell carcinoma, or ESCC) is a third cancer type for which pear intake helps lower risk. In a very large-scale study conducted by the National Institutes of Health and the American Association of Retired Persons (involving 490,802 participants), pears were found to be a key food associated with reduced risk of ESCC. Interestingly, numerous foods belonging the rose (Rosaceae) family were also found to lower risk of ESCC, including apples, plums, and strawberries.
It's become fairly common to hear both laypersons and healthcare practitioners talking about pear as one of the more easily digested fruits. In fact, many practitioners recommend that pear be one of the first fruits considered when it comes time to introducing an infant to his or her first pureed fruits. Even though we have been unable to find large-scale human studies to support these digestibility claims, we don't question the fact that easier digestion has been experienced by many individuals in the context of pears versus other fruits. One factor that may come into play here is the low acid nature of pears, especially in comparison to widely enjoyed citrus fruits like lemons, grapefruits, and oranges.
It's also become fairly common to hear pears being described as a "hypoallergenic" (low allergy) food. Healthcare practitioners often allow clients to continue eating pears when following a low-allergy diet plan, and many individuals report having fewer allergy-related symptoms when consuming pears versus other fruits. Of course, no fruits are classified as major allergens according to the U.S. Centers for Disease Control and their rules for identification of allergenic foods on product labels. In addition, we have been unable to find large-scale research studies to support any low-allergy claims for pears. Still, we do not question the fact that many people seem to do much better when consuming pears versus other fruits in terms of allergic response.
It's very possible that these two experiences - better digestibility and decreased allergic response - are related, and that future research will help us understand why pears may provide us with special health benefits in these areas. *As noted in the Worlds Healthiest Foods.
That is why pears are one of the top foods for empowering your health.
Please call me if you ever need anything at 888-599-9355
Or
You can always email me HERE
Your Best Days Are Still Ahead!
Bio
Known as America's Health Coach, Dr. Asa Andrew is a national best-selling author and host of the #1 Health Talk Radio Show in North America. In addition to his hit television series, Dr. Asa is a regular contributor to NBC, ABC, CBS, CNN, and FOX and regarded as a healthcare leader in the field of lifestyle medicine.