Food For Thought – The Ultimate Youthful Fruit That Protects Against Heart Disease and Cancer by Dr. Asa Andrew
Submitted by

Dr. Asa Andrew

on Wed, 05/20/2015 - 23:58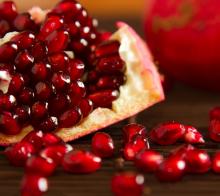 The pomegranate is one of nature's powerful super foods. It contains certain polyphenols that can help fight against some of our toughest health challenges like diabetes, heart disease, and cancer. This fruit is packed with strong anti-oxidants that help support the body with many of the challenges we see today. The amazing part is that there is a secret ingredient that can potentially beat many symptoms off the flu, may reduce inflammation, reduce risk of heart disease, and can lower cholesterol. "The most important new issue is the cardiovascular protection of pomegranate," says Prof. Michael Aviram, head of the Lipid Research Laboratory of Haifa's Rambam Medical Center and one of Israel's top pomegranate researchers. Pomegranate juice packs a high antioxidant potency punch and protects against heart attack and stroke. According to new lifestyle research coming out of Aviram's lab and an article he co-authored in Rambam Maimonides Medical Journal in April 2013, this royal red juice has an even higher concentration of antioxidants than other sources of dietary antioxidants such as red wine, grape juice, blueberry juice, cranberry juice and green tea.
A Technion-Israel Institute of Technology study led by Aviram showed that the antioxidants found in pomegranate juice may be especially beneficial. Researchers found that drinking pomegranate juice reduced the uptake of oxidized "bad" LDL cholesterol by immune cells, which is a major contributing factor to atherosclerosis. "Pomegranate at low dosages is also good for diabetics as the pomegranate sugar is not free (and harmful) but it is attached to the pomegranate's unique phenolic antioxidants. Two other recent studies by British and American researchers show that components in pomegranate juice help prevent prostate cancer metastasis. But Aviram warns that while the fruit juice is beneficial, "Pomegranate is not a magic bullet" in curing diseases.
Israel is one of the world's top producers of this crimson dessert wine. Father-and-son duo Gabi and Avi Nahmias, from Moshav Kerem Ben Zimra in the Upper Galilee, developed a new strain of pomegranate for winemaking. In 2003, they produced just 2,000 bottles of pomegranate wine to test the market. Today, they ship more than 720,000 bottles across the globe. Israelis have innovated different varieties of pomegranates. Some are sweeter; others keep longer. According to the Agricultural Ministry, this year's crop is expected to yield some 60,000 tons of fruit. Of that, 14,000 tons of pomegranates will be used by the domestic market and the rest will be exported, mostly to Europe.
Ben-Gurion University of the Negev horticultural researchers has introduced three types of pomegranates to the market. Prof. Ze'ev Wiesman of the plant oil biotechnology lab led the team that improved the genetic makeup of the new pomegranates — Narda, Rotem and Nitzan. Wiesman says they taste better, are more vivid in color, and ripen earlier – as was the case this season, when Israeli pomegranates hit the global market in July 2013, three weeks earlier than usual. Chinese herbology cites pomegranate juice as a longevity treatment. And thanks to the pomegranate's antioxidant extracts, modern science and the cosmetics industry agree that topical application of products containing the ruby red fruit can keep wrinkles at bay. Pomegranate-tinged anti-aging creams, massage oils, masques and toners are readily available. *As noted in the world's healthiest foods.
Bio
Known as America's Health Coach, Dr. Asa Andrew is a national best-selling author of Empowering Your Health and host of the #1 Health Talk Radio Show in North America. In addition to hit television series, he is a regular contributor to NBC, ABC, CBS, CNN, and FOX and regarded as a healthcare leader in the field of lifestyle medicine.