Getting Our Kids To Eat Healthy by Dr. Asa Andrew
Submitted by

Dr. Asa Andrew

on Tue, 09/15/2015 - 12:29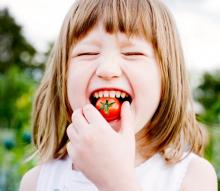 One of the challenges that bother me the most is seeing our kids overweight and unhealthy. Each day on the radio and television broadcasts I discuss a variety of topics and latest health news. When I started seeing the trends in our young people such as 1 out of 3 of kids under the age of 11 being diagnosed with diabetes. Or even worse that 17% of our children are now considered overweight. With this information I started thinking, where are we going wrong? What can we do as parents and leaders to make an impact?
There is something that we can do and must do to leave a health legacy for our kids and impact the upcoming generation. Our habits determine our destiny. The question is what kind of daily habits are we utilizing to create the kind of life that we want to live and the kind of life that we want our kids to have.
It is up to us.
Here are some tips to help get your family on track and get your kids on a healthier pattern in their eating habits. Just like my Granny always said, "You are what you eat."
1.Eat Together
Family time and modeling comes from shared time together. Spend the time to eat meals together and it will encourage good healthy habits.
2.Be The Model
Kids don't do what we say, they do what we do. Let your kids see you eating fruits and vegetables, not the chips, cakes, and cookies. You can't be eating a cupcake and tell them to eat their broccoli!
3.Don't Quit So Easily
Research tells us that it takes kids up to 15 no's before they will say yes to a healthy food. Be a salesperson – be persistent. Your kids will thank you later.
4.Portions
Let your kids determine the portion size. They have an internal barometer that will let them know when they are full. Stop the "clean your plate" mentality. Let them decide.
5.Avoid Reward Eating
Discontinue the treat for eating well mentality. This only furthers your kids to dislike the healthy foods in order to get the treat.
6.Make It Fun
Start a small garden that they help you with. Let them understand how healthy foods are created. Once they see it, they will be more apt to want to be a part of eating it.
7.Made To Order
Have kids be included in what the family is eating. Do your best to avoid special, made to order meals just for them. Have the entire family eat the same foods together and your kids will come along and develop a discipline of eating healthy on your terms.
8.Be Creative
Take the normal family recipes and use alternative oils like coconut oil, gluten free flour, and stevia instead of sugar. Make healthier alternatives so the family can still enjoy classic favorites.
Bio
Known as America's Health Coach, Dr. Asa Andrew is a national best-selling author and host of the #1 Health Talk Radio Show in North America. In addition to his hit television series, Dr. Asa is a regular contributor to NBC, ABC, CBS, CNN, and FOX and regarded as a healthcare leader in the field of lifestyle medicine.