Limes
Submitted by

Dr. Asa Andrew

on Mon, 12/08/2014 - 21:37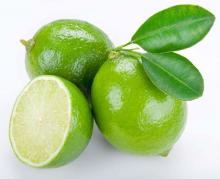 The lime is the sweeter cousin of the lemon with a distinctive flavor that's reminiscent of the Caribbean. Have you ever wondered why a person, especially a sailor from Britain, used to be called a Limey? In 1493, the passion for this fruit began to spread. British explorers dominated the world trade routes with their steady supply of limes from the West Indies. When many ships fell to scurvy (a disease caused by a deficiency of vitamin C), the British survived because of their constant supply of this diminutive citrus. Limes are good for women's health. These citrus gems contain calcium and folate, two nutrients that are important for post-menopausal women and women of child-bearing age. One fresh lime contains 22 milligrams of calcium and over five micrograms of folate. Not bad for a tiny little fruit!
Lime peels can combat aging skin. The peels of citrus fruits contain an inhibitor of melanin production. With age and UV ray exposure, melanin, which gives skin its pigment, can build up and deposit itself as spots on your skin. The limonoid compounds in limes have been shown to prevent cancers of the colon, stomach and blood. Though the exact mechanism is unknown, scientists have observed that antioxidant limonoids also cause cancer cell death. Lime limonoids also stay active longer in your bloodstream, mopping more free radicals than green tea or dark chocolate.
Fresh or from concentrate, lime juice contains more citric acid than orange or grapefruit juice. Citric acid is a natural inhibitor of kidney stones made of crystallized calcium. Go for fresh lime juice squeezed into water, as opposed to commercial limeades, for maximal benefits. Limes may lower cholesterol. The primary flavonoid found in the limes, known as hesperidin, has been shown to lower cholesterol and triglyceride levels in animals fed a high-cholesterol diet. Get the most hesperidin out of heart-smart limes by eating as much of the white pith as possible. As noted in the worlds healthiest foods.