The Ultimate Grandma Aging Remedy in Apple Cider Vinegar
Submitted by

Dr. Asa Andrew

on Mon, 04/13/2015 - 12:17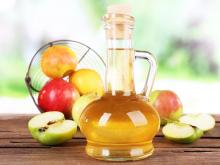 Our foods are gradually becoming the stars of the beauty world. Whether we're reusing old tea bags for under eye puffiness or tightening our pores with turmeric these unconventional treatments are just as good, if not better, than what we'd pay for at the beauty counter. We asked our communities to share the amazing beauty benefits of another common household wonder called apple cider vinegar.
Skip harsh shampoos. When used as a follow-up to baking soda, this do-it-yourself treatment makes strands shinier, reduces frizz and seals cuticles. It also simulates the scalp to promote hair growth. Psoriasis sufferers praise apple cider vinegar for reducing inflammation. Apply a few drops to a cotton ball and rub on your T-zone or other dry spots to prevent breakouts and minimize blemishes. Mix apple cider vinegar with water, and then swish around in your mouth. This antiseptic will break down plaque and bad breath-causing bacteria.
When you combine equal parts apple cider vinegar you get one pretty awesome mask. Leave this detoxifying, deep-pore treatment on for 10-15 minutes before rinsing off with warm water. The next time you get ready to slip into a warm bath, add one to two capfuls of apple cider vinegar. It draws toxins out of the body, leaving behind toned and moisturized skin. Can't afford surgery to get rid of warts? Try placing a cotton pad soaked in apple cider vinegar on top, then secure with a bandage. Leave on overnight and remove in the morning. If you stick to this consistently for a week, you should start to see results. Go the natural route with apple cider vinegar to soothe aching and swollen feet. This provides instant relief for pregnant women, runners, high-heel lovers.
Many women claim it maintains youthful-looking skin. But a way to stop signs of aging, including age spots and varicose veins, is to simply dab it on before going to bed. The smell of apple cider vinegar is putrid, but it pales in comparison to body odor. Rub a little into your pits and the odor will eventually neutralize. As noted in the world's healthiest foods.