Boosting Energy With The Essential Power Of Lemon Oil
Submitted by

Dr. Asa Andrew

on Fri, 05/08/2015 - 11:43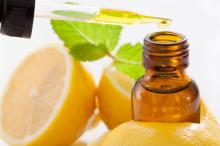 Most of the quality, pure, therapeutic grade essential oils are low-heat distilled extracted, however, citrus essential oils come from the rind of the fruit (not the juice) and are most often cold pressed. Lemon essential oil is one of the least inexpensive yet has many health benefits. One of it's most important chemical constituents is limonene(which is in all citrus oils), which has been extensively researched for it's protective and defensive influence on a cellular level.
For internal use and cleansing benefits, you can add drops of Lemon essential oil to your water throughout the day (only if safe for internal use, and ONLY add to glasses or glass water bottles - not plastic). It is an excellent cleansing agent capable of pulling toxins and petrochemicals from the cells, a powerful antioxidant that can help ward off free radicals, and it is alkalizing offering digestive benefits.
Here are some other uses and benefits:
super effective for sore throats (just drop 2-3 drops on the back of your tongue)
excellent for a cough and seasonal allergies supporting respiratory functions
uplifting and energizing (just drop in palm and smell) and has been shown to improve mood and cognitive functions
can be applied topically to increase circulation
it is a powerful antiseptic, cleansing to the environment and great for eliminating odors inn the air when diffused
works amazingly well for carpet spots: oils, stains, animal stains (just drop on spots, wait a couple of minutes then rub with hot wet cloth)
great disinfectant for counter tops
dissolves gum resins when removing bottle labels
excellent for dissolving chewing gum residue
How do I use Lemon essential oil most?
Adding one or more drops to many of your foods greatly enhances the flavor: salad dressings, hummus, yogurt, smoothies, frozen desserts, meat marinades, and more. And just adding it to your water will help you enjoy it more and drink more!
Lemon essential oil (safe for internal use only) is one of those oils with super great benefits - you won't want to go a day without it!
Erleen Tilton
Holistic Nutritionist, Certified Aromatherapist
ErleenTilton.com - get your FREE e-book here!

Bio
Known as America's Health Coach, Dr. Asa Andrew is a national best-selling author of Empowering Your Health and host of the #1 Health Talk Radio Show in North America. In addition to hit television series, he is a regular contributor to NBC, ABC, CBS, CNN, and FOX and regarded as a healthcare leader in the field of lifestyle medicine.