The Power of Orange
Submitted by

Erleen Tilton

on Thu, 04/09/2015 - 09:02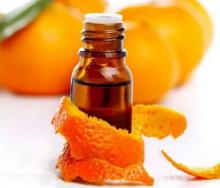 How about you….do you love tasty foods that are simple to make, and nutritious too? The best flavors come from pure therapeutic essential oils that are meant for internal use, so you can add them to your foods.
Wild orange is one of those essential oils that is high in antioxidants,uplifting, energizing, alkalizing, stress reducing. You can inhale it, rub in on your temples or wrists, drop it in your water, and it is a great addition to your foods: smoothies, yogurt, dips, treats, more. Here are some ideas - you will love them!
ORANGE GRANOLA PARFAITS
(this make a super delicious breakfast - your family will love you!)
2 cup Gluten-Free granola
½ cup slivered or sliced almonds, or chopped pecans
2 pints vanilla coconut milk yogurt
4 drops Wild Orange essential oil
2-3 cups fresh prepared fruit combination:
Sliced strawberries, blueberries or raspberries, sliced peaches, etc.
Prepare separate bowls of fruit, granola, nuts, and yogurt with oil added.
In parfait glasses, layer in that order and repeat. Serve at once.

POWER BITES
1 cup finely shredded coconut, divided
1 cup raw almond butter
1 cup dried cranberries
1/2 cup raw honey
1/2 teaspoon salt
2 Tablespoons chia seeds
3 drops Wild Orange essential oil
Place all ingredients into a bowl except for half cup shredded coconut. Stir until well mixed, add essential oil and mix until combined. Roll into balls and coat with the other half of the coconut. Store in the
refrigerator and eat whenever you need an extra boost of energy or before a workout.
Now all you have to do is set the party date and invite your friends! They will love these tasty foods and how good they are for you!
Erleen Tilton
Holistic Nutritionist, Certified Aromatherapist
ErleenTilton.com - get your FREE e-book here!

Bio
Known as America's Health Coach, Dr. Asa Andrew is a national best-selling author of Empowering Your Health and host of the #1 Health Talk Radio Show in North America. In addition to hit television series, he is a regular contributor to NBC, ABC, CBS, CNN, and FOX and regarded as a healthcare leader in the field of lifestyle medicine.