The Best Natural Replacement For The 7 Toxic Items In Your Bathroom
Submitted by

Dr. Asa Andrew

on Fri, 07/03/2015 - 14:55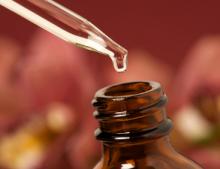 Surprisingly most kitchens and bathrooms contain many items for cleaning and body care that are harmful for your health, and most don't think of how they can and do affect you adversely. However, there is a simple solution that will surprise you.
With a protective blend of essential oils, you can dispel pathogens very effectively. And the best part is that you can make this up simply with just pennies in comparison, with five single essential oils: clove, cinnamon, orange, rosemary and eucalyptus. Just take 2 drops of each of these oils and combine in an 8 oz glass spritzer bottle filled with purified water. Now you can use this in multiple ways in your bathroom: disinfect the counter tops, the tile (great for mold control), the toilet, even disinfect the floors (several squirts followed by a wet water mop), use it as an air freshener, as a hand sanitizer, as well as a mouth wash! No joke! You've just replaced 7 expensive, toxic products (or more) in your bathroom with 10 drops of essential oil in a bottle of water (cost is about $2, with the spritzer bottle $4 or so). Same formula - safe and effective enough for the toilet and your mouth too! Really? Yes, really!
Here are some other suggestions with this same essential oil formula given:
Keep another bottle in your kitchen to use as a fruit and veggie wash (shake first before spritzing). Spritz on your produce then wash thoroughly to remove toxic residues, and eliminate or reduce pathogens. Disinfect the counters, refrigerator, and cutting boards too!
Pour this formula in a 1 or 2 oz glass spritzer bottle and keep it in your car or handbag. Though I don't recommend keeping your essential oils in your car because of possible heat damage, this is a small amount to keep in your console at all times and use effectively as a: hand sanitizer (after getting gas, before eating food), air freshener (or air purifier if someone is sick - spritz frequently), or mouth spritzer. Super effective, super inexpensive! Works so well! You have something that is safe, effective, inexpensive, and non-toxic too!
Why is this solution so effective as a disinfectant?
It is said that no virus or bacteria can live or grow in the presence of CINNAMON essential oil - very powerful for dispelling pathogens, yet safe for your body!
CLOVE essential oil is off the charts when it comes to good-for-you antioxidant levels and is also antibacterial, antifungal, antiviral and more. That's why it is super-effective in your mouth.
ORANGE essential oil is a powerful citrus oil, excellent for cleansing and sanitizing, also a super antioxidant.
EUCALYPTUS essential oil is excellent for sinus and respiratory challenges, also antibacterial and antiviral.
ROSEMARY essential oil is good for any infectious illness, also antibacterial and antifungal.
Together these five oils are powerful cleaning agents for home, laundry, body and restoring health. And if you use non-toxic essential oils that are meant for internal consumption, they are highly beneficial to drink too!
You, your family, your community and the world are greatly benefiting by using pure therapeutic grade essential oils……QUALITY MATTERS when it comes to your body and your health, doesn't it? Take your next step to better health.
Erleen Tilton
Holistic Nutritionist, Certified Aromatherapist
ErleenTilton.com - get your FREE e-book here!

Bio
Known as America's Health Coach, Dr. Asa Andrew is a national best-selling author of Empowering Your Health and host of the #1 Health Talk Radio Show in North America. In addition to his hit television series, he is a regular contributor to NBC, ABC, CBS, CNN, and FOX and regarded as a healthcare leader in the field of lifestyle medicine.