Essential Healing with New Summer Salad Ideas
Submitted by

Dr. Asa Andrew

on Fri, 06/19/2015 - 14:27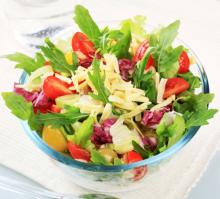 Salad dressings can be expensive AND contain many unhealthy ingredients. You can do better by simply making your own, or just add a dressing on a salad prior to serving.
Essential oils greatly enhance most any salad by adding unique flavors and therapeutic benefits. Make sure the essential oils you use are safe for internal use. Here are some great ones to try:
Summer Salad
Lemon, Lime, and Orange are cleansing, alkalizing, good for digestion, uplifting mood.
Black Pepper promotes good digestion, adds great flavor (use sparingly)
Cilantro is exceptional for cleansing metal toxicity and is tasty (coriander too)
Rosemary or Thyme can also add great flavors - great for building immunity
For any green salad serving 4, just stir in a small bowl:
1-2 tablespoons of olive oil
1 tablespoon of apple cider vinegar
2-3 drops of your favorite oils (a variety, stronger oils only use 1 drop)
pinch or two of salt
Then drizzle over your green salad and toss just before serving. Double these amounts for larger salads.
Also, here are a couple of salad ideas you might enjoy!
LIME CHICKEN & QUINOA SALAD
1 cup quinoa
1 cup water
1 large red bell pepper, cut into strips
3 Tbs. water
8-10 drops Lime essential oil
1 drop Black Pepper essential oil
1 drop Coriander essential oil
2 tablespoons olive oil
2 cloves garlic, minced
1/4 tsp. salt
2 large chicken breasts (cooked, cooled and chopped)
1/2 cup coarsely chopped fresh cilantro
1/2 cup sliced green onions
1) In a medium saucepan combine quinoa and the 1 cup water. Bring to boiling; reduce heat. Simmer, covered, for 10-15 minutes. Remove from heat. Uncover and let stand about 30 minutes.
2) Stir-fry red pepper in 1 tsp. coconut oil just to soften; put aside to cool.
3) For dressing, in a small screw-top jar combine water oils, garlic, and salt. Cover and shake well to combine.
4) In a large bowl combine red pepper strips, quinoa, chicken, cilantro, and green onion. Drizzle with dressing and toss to combine. Line serving plates with lettuce. Top with quinoa mixture. Serve salad at room temperature. Makes 4-5 main-dish servings.
PARTY SALAD
1 head romaine
1/2 head red-leaf lettuce
1/2 cup red onion, chopped
2 medium artichokes, chopped
1/2 cup sun-dried tomatoes, chopped
1/2 cup olives (whatever your favorite olive is)
Tomato wedges to garnish
Dressing:
3 tablespoons olive oil
1 tablespoon water
2 tablespoons apple cider vinegar
3 drops Lemon essential oil
3 drops Lime essential oil
1 drop Black Pepper essential oil
1 drop Cilantro or Rosemary essential oil Salt to taste
Combine vegetables; drizzle dressing ingredients on top just before serving.
For the Healthy and Happy....
Erleen Tilton
Holistic Nutritionist, Certified Aromatherapist
ErleenTilton.com - get your FREE e-book here!

Bio
Known as America's Health Coach, Dr. Asa Andrew is a national best-selling author of Empowering Your Health and host of the #1 Health Talk Radio Show in North America. In addition to his hit television series, he is a regular contributor to NBC, ABC, CBS, CNN, and FOX and regarded as a healthcare leader in the field of lifestyle medicine.