A Quick Breakfast Containing Energy Enhancing Essential Oils
Submitted by

Dr. Asa Andrew

on Wed, 06/03/2015 - 13:40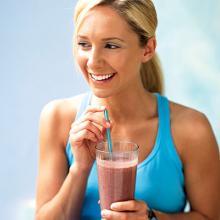 It all starts with what you eat. It's not a mystery….it's the plain ol'truth! How you start your day determines how the rest of your day will go as far as your energy, less food cravings and feeling satisfied.
So here's a great way to begin your day. Make this every morning and it won't be long until you'll wonder what you ever did without your Sunrise Smoothie! It's full of anti-inflammatory nutrients including fiber, many important phytonutrients, a great balance of protein, carbs, and fat, and the essential oils provide cleansing, alkalizing, and an increase in your metabolism that will benefit you all day long. And this is a super way to get loads of veggies down you and your children - and love it too!

The secret sauce in this recipe is the Daily Meal Complete organic comprehensive foundational four and the essential oils. Make sure they are meant for internal use before adding. Citrus essential oils (lemon, grapefruit, wild orange, lime, bergamot, tangerine) are excellent for cleansing, digestion, alkalizing, and mood uplifting;
Cinnamon essential oil is great for balancing your blood sugar and reducing your food cravings; Peppermint, Ginger, Fennel are invigorating (but strong, go easy) and great for digestion.

SUNRISE SMOOTHIE (Serves 2)
2 cups filtered water
2 scoops Daily Meal Complete
1/4-1/3 cup raw, soaked almonds (soaked improves digestibility, but raw is ok too)
1 handful of baby greens or spinach leaves
1 carrot, cut into chunks
1 stalk celery, cut into chunks
1 apple, cut into chunks
2-3 pitted dates or 5-6 drops stevia
1/2 green banana, peeled, fresh or frozen
7-8 drops grapefruit, wild orange, lemon, cinnamon essential oil (others/variety)
2 cups frozen fruit blend (berries, papaya, mango, pineapple, peaches, etc)
- Some ingredients are optional, but use as much of these as you can
- Place ingredients in blender, except frozen fruit and blend on high until smooth; add frozen fruit and blend well again
- Too much for one meal? Refrigerate and enjoy for your mid-afternoon snack.
- Also drink this as a meal not as a drink…..as in….chew your juice! :)
Enjoy!!
Erleen Tilton
Holistic Nutritionist, Certified Aromatherapist
ErleenTilton.com - get your FREE e-book here!

Bio
Known as America's Health Coach, Dr. Asa Andrew is a national best-selling author of Empowering Your Health and host of the #1 Health Talk Radio Show in North America. In addition to hit television series, he is a regular contributor to NBC, ABC, CBS, CNN, and FOX and regarded as a healthcare leader in the field of lifestyle medicine.