Why and How to use Essential Oils internally
Submitted by

Dr. Asa Andrew

on Fri, 08/07/2015 - 14:42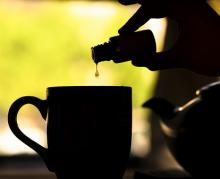 For centuries, essential oils have be used aromatically and topically, however it's exciting to know that there are many internal benefits as well. More and more research validates the benefits of using essential oils for internal use providing the safety guidelines are understood and followed.
Essential Oils are NOT created equal: Soil and plant composition, the time of day harvested, the part of the plant used (stem, leaf, flower, etc.), and extraction methods can all greatly vary. If science is not documented behind the oils you are using, then don't use them internally.
Bottle Labeling: If a particular brand of essential oils is not labeled as safe for internal use, 1) the plant composition is not pure (may contain contaminants), 2) the extraction methods used cannot produce a pure grade of oil safe for consumption, and 3) the company doesn't understand that using essential oils topically and aromatically the oils go internally anyway. Take a look at a bottle of essential oil. If it is meant for internal use, it should have a supplement fact label which will insure is can be safely taken internally. Essential oils are considered supplements, not medicines.
Consider the application: for example, a topical pain. Your best application would be topical, so an oil blend may be formulated for oils that will provide the best benefits in a topical application. Wintergreen,
for example contains high amounts of methyl salicylate, not recommended in large amounts for internal use.
How to Use: Essential oils are concentrated aromatic compounds, so 1-2 drops is often the dosage, thus, unlike medications, it's better to use a little bit more often than a lot at once….you don't have to wait hours between applications. In fact the French Intensive Method says for the onset of an acute situation, you can use this dosage: every fifteen minutes for the first hour, every thirty minutes for the next two hours, then on the hour for the next few hours. This is extremely beneficial for example, with the onset of a virus. You can often kick it fast before it grabs you with this method.

When would you want to take essential oils internally?
Internal organ benefits such as digestion, increasing metabolism, internal cleansing, organ support, is just a start.
How would you take them internally?
1-2 drops on or under your tongue - drops of a digestive blend is excellent for in upset stomach; drops of lemon on the back of the tongue is excellent in soothing a sore throat
in a glass or water (not plastic cup or water bottle, glass only) - lemon or grapefruit essential oils are phenomenal for internal cleansing and weight reduction
2-4 drops in a veggie capsule - for chronic digestive issues, in a veggie cap gets the oil right to the stomach, plus it eliminates the taste if that's an issue
added into your food - once you start adding oils to your foods you are hooked because of the excellent tasty flavors
Here are some benefits of adding essential oils to your foods:
- Cleanse organs
- Improve digestion
- Stimulate metabolism
- Create internal healing
- Increase antioxidants
- Build immunity
- Raise your energy
- Add yummy flavors to foods!
QUICK SALAD DRESSING
For making a green salad taste fabulous, try mixing this up and combining it over the entire family green salad (for about 4 servings):
2 Tbs. olive oil
2 Tbs. apple cider vinegar
1/4 tsp. sea salt
3-4 drops lemon, lime, or orange essential oil
1 drop cumin, cilantro, coriander, black pepper, basil or other essential oil
Combine in a small bowl, drizzle over salad and toss! Enjoy!
You can enjoy the wonderful benefits of essential oils internally by empowering your health and following the safety guidelines and by starting with quality, pure therapeutic grade oils. Let's get you get started right:
www.erleentilton.com/essentialoils
Live a life of Wellness and Abundance with these simple gifts from nature!
Erleen Tilton
Holistic Nutritionist, Certified Aromatherapist
ErleenTilton.com/essentialoils
info@erleentilton.com to book Erleen to speak at an event

Bio
Known as America's Health Coach, Dr. Asa Andrew is a national best-selling author and host of the #1 Health Talk Radio Show in North America. In addition to his hit television series, Dr. Asa is a regular contributor to NBC, ABC, CBS, CNN, and FOX and regarded as a healthcare leader in the field of lifestyle medicine.